The first weekend of the 2016 Devon County Championships proved to be a highly successful outing for Mount Kelly Swimming. In total, swimmers from Mount Kelly came away with an impressive haul of 4 Senior Championship Titles, 7 Junior Championship Titles, 19 Championship Finalists, 32 Age Group Medals and many other Age Group finalists.
14 year old Lauren Hession was the first swimmer to claim a Senior and Junior Championship Title in the Women's 100m freestyle storming to victory in a new PB of 58.41. Close behind was Christy Gold in 2nd, Kaylee Dekker 3rd, Anna Cutts 4th and Georgina Dennis 7th. Jacob Newcombe then took the Junior Title in the Men's 200m butterfly in a huge new PB of 2.18.97 with Jack Hutchin finishing 2nd junior and Reiss Ormonde-Cunningham 2nd in the senior equivalent. The final Junior Title of Day One went to Ollie Taverner in the Men's 50m backstroke in a new PB of 28.00.
The first session of Day Two proved the most successful with Mount Kelly swimmers taking all six trophies on offer! Benjamin Staig set a new lifetime best of 2.07.71 to win the Men's 200m Individual Medley with Ollie Taverner taking the Junior Title in 2.13.75. 13 year old Kaylee Dekker then claimed both the Senior and Junior Titles in the Women's 200m butterfly in a new PB of 2.25.95. The final event of the morning was the Men's 100m freestyle which saw Julian Chan Quee Lin comfortable take victory in a new Open Mount Kelly Record of 50.11 and Eddie Maddocks stole the Junior Title again in a new PB of 54.33.
The final Junior Title was won by Lauren Hession in the Women's 50m backstroke in a time of 30.57 while Anna Cutts also swam to a new lifetime best of 31.67 to finish 7th. Mount Kelly's other championship finalists were Taku Chaza in the 50 backstroke and Finn Linton in the 50 backstroke and 200m Individual Medley who both set new lifetime bests.
In the Age Group finals, Mount Kelly again experienced a great deal of success winning 32 medals. A breakdown of medallists can be seen below:
Jack Plummer – 3 Gold
Olivia Lee – 2 Gold, 3 Silver
Bella Hodges – 2 Gold, 2 Silver
Eddie Maddocks – 2 Gold, 2 Silver
Ollie Taverner – 1 Gold, 1 Bronze
Tegan Lessey – 1 Gold
Lauren Hession – 1 Gold
Georgina Dennis – 1 Silver, 1 Bronze
Jacob Newcombe – 1 Silver, 1 Bronze
Elliot Svensson – 1 Silver
Claire Murphy – 1 Silver
Sophie Main – 2 Bronze
Kaylee Dekker – 1 Bronze
Guy Purbrick – 1 Bronze
Reiss O-C – 1 Bronze
Phoebe Lloyd-Evans – 1 Bronze
Other Mount Kelly swimmers who made finals were:
Euan Botham, Jacob Gibbons, Michael Alcorn, Robbie Nielsen, Jake Bentley, Jamie Brew, Will Luckham-Down, Rebecca Cramp, Halle Ashworth and Millie Murdoch.
In addition, many other swimmers set some great personal best times just missing out on the finals. These swimmers were: Giancarlo Bernadi, Sasha Wavre, Tom Harrison, Alex Dennis, Chloe Barrow, Amelia Riggott, Annabelle Hess, Isabelle Sheil, Ellie Stanyer, Charlotte Ray and Nicole Dunn.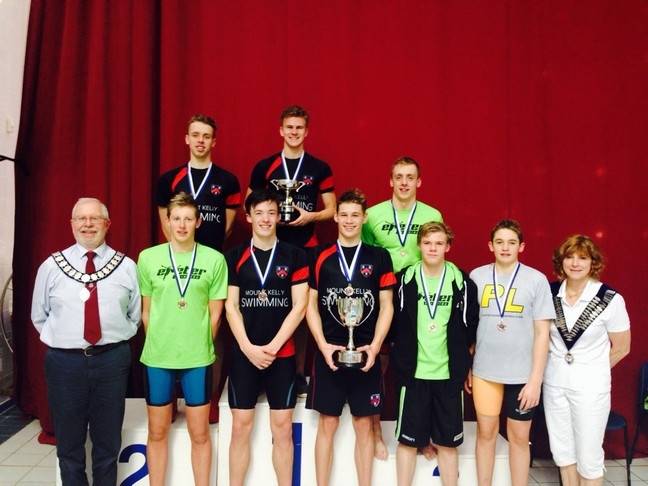 Categories:
Archive News
Blog School News