Thursday March 16th saw a packed front hall at the Prep enjoy a superb evening of poetry from the Spoken English Competition finalists from Years 3 to 8.
This is always an exciting event, and this year's was no exception. It was judged by Philip Hoyland, Head of Pinewood School, who praised the children's diction, clarity, and presence , as they delivered an amazing choice of poetry, ranging from Roald Dahl, through Lewis Carroll, Rupert Brooke to John Betjeman. Twenty five pupils bravely recited their poetry, to the delight of parents, friends, and their peers alike.
It must have been very hard to choose the winners, as the standard was exceptionally high, and we congratulate all the finalists who took part.
The winners were:
Juniors:
William Robinson (The Crocodile by Roald Dahl)
Intermediate:
Commended: Georgia Burton (It Couldn't Be Done by Edgar Albert Guest).
Winner: Amelia Riggott (The Sssnake Hotel by Brian Moses)
Senior:
Prize for Audience Enjoyment: Archie Burton (Little Red Riding Hood and the Wolf by Roald Dahl)
Winner: Charlotte Smith (For the Fallen by Robert Laurence Binyon)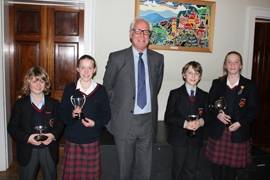 Categories:
Archive News
Blog School News