On Sunday 24th April, six of our Sixth Formers attended the first-ever South West Schools' Kayaking Championships at Roadford Lake. They arrived in a rather trepidatious frame of mind, with most of the team being new to sprint kayak racing. Fears were soon replaced by smiles, however, as the friendly but competitive event, organised and run by Blundell's School, got under way.
Our paddling pairs had some good races, starting with a fast and furious 500m sprint across the lake. Steering was an issue for some in the squally wind and bumpy water. Just one pair had a couple of unexpected swims, but remained cheerful as they were delivered to the shore by the rescue boat.
The 200m knockout races followed, with the gruelling eight mile marathon sprint forming the last event of the day. MK paddlers finished a respectable 4th position (Harry Dudderidge & Georgia Jones) and 5th (Tom Rogers & Millie Murdoch) in the marathon, with the rusty but technically beautiful Ben Hancock and Alex Byrne a little further back in the pack.
All in all it was a fabulous day and definitely one for the calendar next year!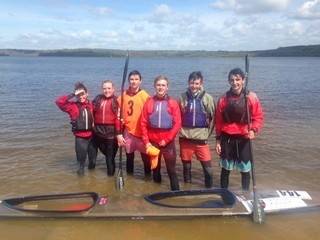 Categories:
Archive News
Blog School News