Mount Kelly was represented by five pupils at the British Modern Biathlon Championship Finals on Sunday 27th November, the event taking place at Tudor Grange Leisure Centre, Solihull.
Bella Hodges, Olivia Lee and Sophie Main travelled up with the aim of becoming the National Biathlon Team Champions in the U13 category, and Annabel Hess and Matilda Riggott competed as individuals in the U12 and U10 categories respectively.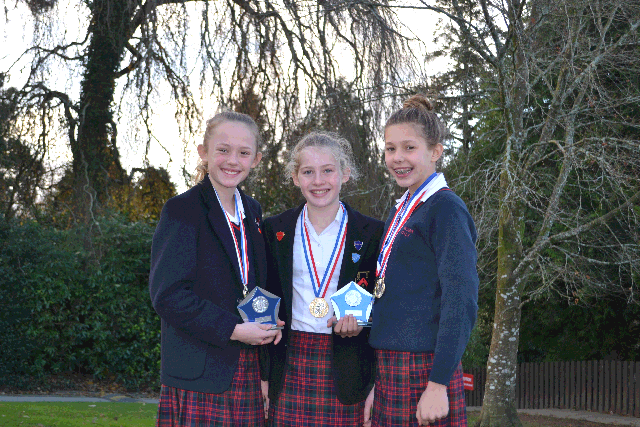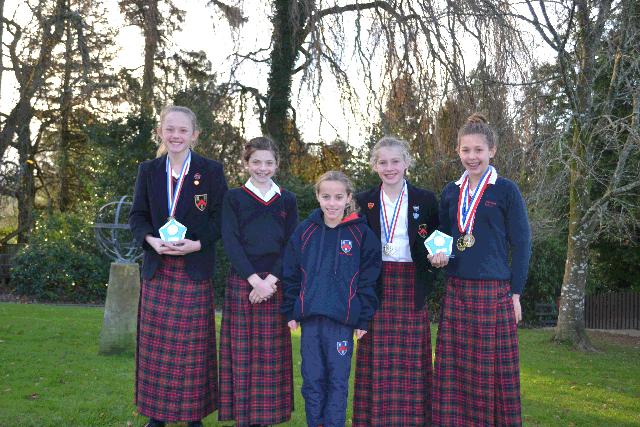 We are delighted to announce that Bella, Olivia and Sophie's massive efforts and PBs on the day ensured that they won their event and are now the official U13 British Modern Biathlon Champions.
Annabelle put in a great performance improving her rankings significantly and finishing in an impressive 21st place, and Matilda's equally impressive performance has ranked her tenth in the U10 category. All girls are to be congratulated on such outstanding performances, and Mount Kelly is extremely proud of their achievements.
Thank you to Mrs Hodges for the following report on the U13 competition:
Olivia and Bella were first up in the penultimate heat of the 1,600m run. Olivia set the pace from the off, taking a lead ahead of the chasing bunch. The pace remained fast, with Olivia and Bella showing great determination to stay in the leading group. Bella finished second in the heat with a PB of 5m48s and Olivia 4th also with a PB of 5m56s.
Sophie was in the final heat with all the best seeded runners. From the off the pace was punishing. Sophie was not intimidated and ran her own race, starting at a steady pace and then gradually working her way through the field to finish in 5th place in an impressive PB time of 5m38s, which ranked her 5th overall.
With the run times now converted into points, Sophie was in 5th position overall, with Bella 9th and Olivia 14th. Calculators now came out, and with points slightly weighted to the MK girls' stronger swimming event, it was worked out that Sophie, Bella and Olivia would need to swim 3, 5 and 7 seconds quicker than the lead runners, to get close to the podium places. They were all in the fastest seeded final heat, along with the event leader. Bella won the heat (1m03s), Sophie 3rd (1m05s) and Olivia 7th (1m07s).
When the points for the swim were added to the run, it was confirmed that Sophie had won the individual silver medal and Bella the bronze, and with it a prize for the fastest swimmer. Olivia finished in a very creditable 10th place, but together the girls achieved their main aim – to become the U13 National Team Champions for 2016.
Categories:
Archive News
Blog School News