Mr Sandford, Assistant Head – Digital Learning, Data and Assessment, has recently qualified as a Microsoft Certified Educator (MCE). One of only a few to pass the rigorous test, the certification validates that educators have the competencies needed to provide a rich, custom-learning experience for pupils.
Mr Sandford has also been accepted into Microsoft Innovators in Education Experts (MIEE), a programme of self-driven educators who are passionate about teaching and learning, who inspire pupils with creative thinking, and work in a truly collaborative spirit to share their learning with the world. MIE Experts share their learning with colleagues and other educators through presentations at conferences, blogs, social channels, and more. Resourceful and entrepreneurial, MIE Experts aim to achieve excellence in education using Microsoft technologies coupled with their innovative teaching practices.
These achievements will improve the use of technology in the classroom to further support SEN, improve pedagogy and make the learning experience more varied.
Mr Francis, Head of Humanities and Geography Subject Lead, has become a United Nations Accredited Climate Change teacher. The qualification involved five online courses on climate change with over 26 hours of study. Mr Francis is one of the first teachers in Devon and Cornwall to gain accreditation and we are proud to have an expert delivering this important part of the curriculum to our pupils.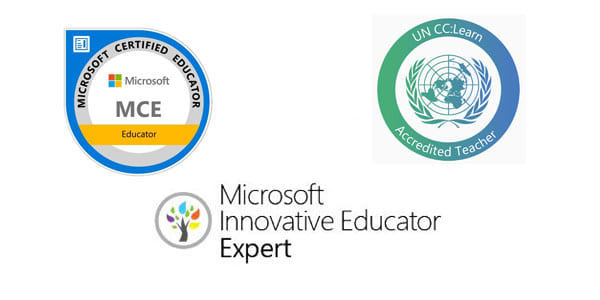 Categories:
News