Pupils at Mount Kelly Prep were delighted to welcome to their assembly Barrie Galley from Water Aid and Judy Pride from Children's Hospice South West (St. Austell) on Monday 18th May. They proudly presented both charities with a cheque for the sum of £433 and Barrie and Judy both took a moment to tell the children how their donations would enable their charities to help those in need.
Last term the pupils on the Mount Kelly Prep charity committee decided to support both these charities and arranged a huge fundraising day in March. Each year group was challenged to collect small change as well as make a donation of £1 in return for coming in in their pyjamas or 'onesies'. The children then hosted a vintage tea party for parents and family at the end of the day, along with a toy and book sale.
In total their fundraising efforts raised an impressive £866, enabling the pupils to present a cheque for £433 to each of their two chosen charities.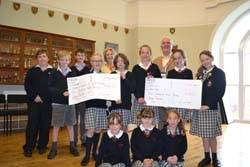 Categories:
Archive News
Blog School News