Four of our Year 8 Scholars attended the Salters' Chemistry Challenge at Truro College, competing for honours against 11 other schools.
In the morning the team had to solve a 'murder' using chromatography and halide tests to analyse samples found at the crime scene. Whilst the team successfully managed to identify the murderer and the contents of the sample, in the opinion of the judges they were not deemed to have performed the practical in the most controlled manner!
In the afternoon, the team had to solve a more lateral test. Given four samples and a range of equipment they had to make and identify a black solid. This involved selecting the correct samples to use, carrying out a displacement reaction, then filtering and evaporating the residue. They also correctly established that the solid was Copper II Oxide. Such was their performance in this task that the team were awarded 'Second Place Overall'.
Well done to Jessye Phillips, Tavy Oursin, Daniel Roberts and William Richards.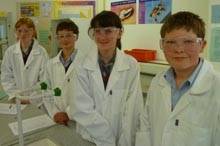 Categories:
Archive News
Blog School News