Mount Kelly had a brilliant outing at the ASA National Winter Meet held at Ponds Forge in Sheffield from the 17th-20th December. Dani Baker, Julian Chan Quee Lin and Megan Bowen all made their first ever appearance in a Senior Final and three Open and 16 Age Group Mount Kelly Records were broken over the course of the meet.
Dani Baker smashed her lifetime bests in the 50 and 100 Backstroke making the senior finals of both events. Her time in the 50 Backstroke of 28.61 broke the Open Mount Kelly Record and Dani's time in the 100 Backstroke saw her place 5th in a strong field.
Julian Chan Quee Lin made the Senior Final of the 200 Butterfly and swam a stunning final to dominate the field a take victory in a new PB of 1.59.99. Julian also broke the Open Mount Kelly Record in the 100 Freestyle posting a time of 50.42 to just miss the final.
Megan Bowen broke three Age Group Records in the 100, 200 and 400 Freestyle as well as making the Senior Final of the 200 Freestyle in a time of 2.01.03.
Leah Picillo broke the final Open Record in the 100 Individual Medley swimming a time of 1.03.94 in a swim-off for the final. Leah also posted an all time Top 5 time in the 400 IM.
Emily Cutler, Jade Stocker and Kaylee Dekker all broke one Age Group Record. Emily swam a new lifetime best in the 200 Backstroke of 2.14.00, Jade Stocker set her record in the 100 IM in a time of 1.05.02 and Kaylee Dekker stormed to a 29.18 in the 50 Butterfly.
Ollie Taverner had a great week of racing posting six new Mount Kelly Age Group Records in the 50,100,200 Breaststroke, 100 and 200 Backstroke and the 100 Individual Medley. Taku Chaza swam two new PBs in the 50 Backstroke and 100 IM and Reiss Ormonde-Cunningham set a new lifetime best in the 400 IM. Also setting a new PB was Finn Linton in the 200 Backstroke. Ben Staig swam consistently well across all three backstroke events and Alex Seymour and Jacob Gibbons both swam well in their single events to post their second fastest times ever.
Mount Kelly swimmers' attention will now turn to the long course season where they will look to build on their success at the 2016 Olympic Trials in Glasgow and 2016 British Summer Championships in Sheffield.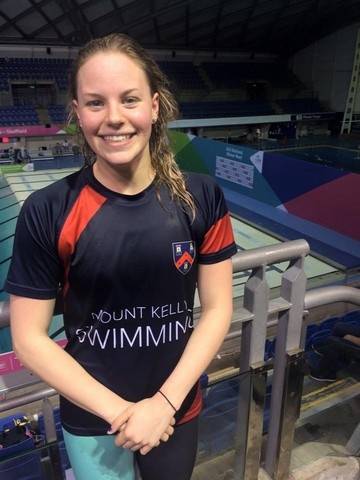 Categories:
Archive News
Blog School News