Congratulations to the fourteen Mount Kelly Lower Sixth pupils who successfully tackled the Devizes to Westminster International Canoe Race over the Easter weekend. This 125 mile gruelling challenge is the epitome of challenge and endeavour, and this year's crew produced some of the School's best results in five years.
This year's paddlers were:
Marcus Watson and Tristan Hamden Smith
Ben Dunlop and Toby Wood
Josie Francis and Richard Bennett
Olivia Banks and Jack Morrris
Jemma Layden and Tom Harrison
Cara Layden and Ellana Dawe
Charlie Beacon and Ted Jenks
Victoria Moore and George Key
Day 1 on Good Friday saw the paddlers complete a 34-mile paddle from Devizes Wharf to Newbury, through a 400m pitch-black tunnel, and running a 1km stretch of canal. All crews arrived safely in Newbury and set up camp for the first night. Throughout the event, paddlers have to camp and cook for themselves.
Halfway through Day 2, the course leaves the Kennet & Avon Canal at Reading and then onto the Thames. The famous Henley Straight marked the last strokes of the day before reaching the campsite at Marlow, where they all celebrated making it over halfway through the event.
The third and longest day of the event is always one in which paddlers need to dig deep and find significant mental reserves to push on. With 38 miles to cover, the last 13 portages to cross, and by now with blistered hands and aching backs, everyone did extremely well to make it through in great times. That night the Mount Kelly squad found out that the fastest 22 K2 crews would be given a racing start the next morning, and this included the fastest Mount Kelly crew: Marcus Watson and Tristan Hampden-Smith.
Wake up for the final day on Easter Monday was before dawn, and the paddlers headed out onto the Thames just after 0700 and rode the ebbing tide through central London cheered on from every bridge by hordes of supporters. Marcus and Tristan were first off under their racing start, quickly followed by Ben Dunlop and Toby Wood who were in the next fastest group to leave.The next crews to paddle under the finish were Olivia and Jack, and Jemma and Tom, who crossed the finish line together. Ted and Charlie put in a great effort throughout the whole event, crossing under Westminster Bridge in a patched, ten year old boat which has now paddled over 1000 miles!
For the first time in at least the last five years, every single one of our crews completed the event in under 24 hours, with our first crew (Marcus Watson and Tristan Hampden-Smith) coming in under 20 hours. This is an incredible achievement, and demonstrates how the standard of Mount Kelly paddling is improving. This also bears testament as our girls' crew Cara and Ellana finished within the top ten of all girls' crews in the event. In addition, our mixed crews this year proved a force to be reckoned with. In the mixed category, Victoria and George came in 10th place, Jemma and Tom in 7th, Olivia and Jack in 5th, and Josie and Richard in 3rd. Congratulations also go to Emily Farrington and her father, Joe, who completed the event in under 22 hours and raised lots of money for charity in the process.
The race and their awe-inspiring achievement will remain a memorable highlight of the pupils' lives, and special mention should also go to their support crews made up of parents, siblings, friends and dedicated Mount Kelly staff.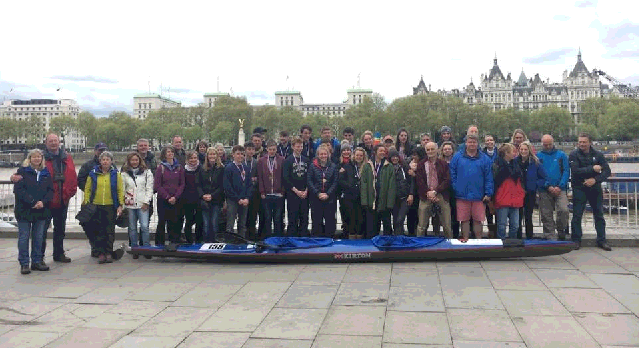 Categories:
Archive News
Blog School News