STEM is a nationwide initiative to encourage pupils into Science, Technology, Engineering and Mathematics careers. Go4SET, one of a number of STEM initiatives, is a fun, hands-on, team building scheme, aimed at encouraging Year 9 pupils to consider STEM related subjects at GCSE, leading to STEM based A Levels and careers in the future.
Mount Kelly has enjoyed much success over the years running STEM schemes like Go4SET, CREST awards and Faraday, and have won a number of South West trophies.
Last week, two teams of six Year 9 pupils visited the STEM Centre at Plymouth City College, for a hands-on educational workshop about presentation techniques, led by Adam Robinson, an accomplished Marine Biologist and humorous presenter.
During the morning, the teams were shown an entertaining example of how not to present to an audience, using a poorly laid out and animated power point describing 'How to make a cup of tea'.
The first warm-up activity of the day – to reinforce the importance of good verbal communication in presentations – was to instruct a partner how to assemble LEGO bricks, whilst blindfolded, to exactly match a given model.
Pupils then brainstormed and created mind maps of words focusing on 'what makes a good Go4SET display stand and presentation?', before participating in group practice presentations on topics of their choice. The final practice session, saw pupils applying what they had learnt, by choosing a topic and then presenting and videoing this to their peers.
To conclude the day, pupils played back and evaluated these performances, identifying each other's little nervous fidgets and mannerisms in full Technicolor on the big screen, to help them streamline their performances for the Go4SET final.
This was an important visit for the teams, to prepare them for the Go4SET South West regional final at Plymouth University, when they will all need to present their 'Eco Factory' ideas, models and reports to a panel of engineering judges.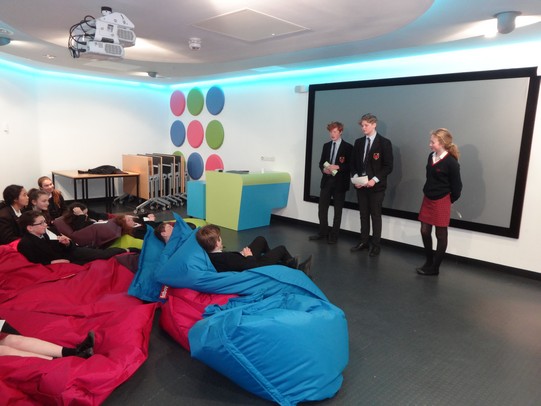 Categories:
Archive News
Blog School News