Mount Kelly an independent boarding school in Tavistock, Devon, has handed a bright East London teen ​a £63,000 bursary after reading of her heartbreak at missing out on a similar award from another fee-paying school.
Kira Maiberg will swap her home in bustling urban Newham for the rolling Devon countryside when she takes up her place to study A Levels next September.
The 16-year-old's dream of studying at a top independent school was set to end in crushing disappointment when she missed out on a £22,000 a year bursary to Highgate School, north London, despite impressing tutors.
Losing this place was made all the more overwhelming when five of her peers at The Cumberland School in Plaistow were offered scholarship places including at Eton College.
Kira's fortunes were changed when news of a teacher at the East London school trying to raise the funds to pay for her tuition was read by the Head Master at Mount Kelly.
Mount Kelly Head Master Guy Ayling was so keen to meet Kira he travelled to East London to interview her personally, before offering her an all-expenses boarding place at his school.
He said: "I first read about the five students winning scholarship places in the newspaper and was really impressed by the ambition and aspiration the school had for its students. When I later read about Kira, I felt it presented the perfect opportunity for us to offer our support and become involved with the programme."
He added: "We are looking at this as very much a long-term partnership which will benefit the students at both schools."
Kira said: "I count myself to be an incredibly lucky person at this moment. Despite working really hard, I truly thought my chance had gone. Even when the school said they would fundraise to pay for my tuition I realised it was a long shot because it was a huge amount of money. The offer from Mount Kelly has come completely out of the blue. It honestly feels like a dream. I cannot thank them and my own school enough for what they have done. My family are from a very low-income background and you just assume things like this will never happen for you but it has, and that's down to my school and Mount Kelly. It is life-changing."
The East London school selects the brightest students in each year, offering mentoring support with interview's, entrance exams and applications to top fee-paying schools.
If students are successful, the fees are paid by the independent schools. Including Kira, in 2019, six students have won places including at Eton College.
The programme is offered via Community Schools Trust which runs Cumberland School as well as Forest Gate Community School, also in Newham, which has been ranked in the top 50 schools nationally for the last four years.
Across the two schools over 20 students, all from deprived backgrounds, have been offered a place at fee-paying schools including four at Eton.
The Cumberland School headteacher Omar Deira said: "We are extremely grateful to Guy and Mount Kelly for their incredible generosity and support. Kira is an exceptional student who would flourish in any environment but will find the perfect home for her academic gifts in the picturesque surrounds of Mount Kelly. We hope this can be the start of a mutually beneficially relationship between our two schools."
During the 2019-2020 academic year means tested bursaries to the value of £246,075 were awarded by Mount Kelly, predominantly to local pupils. This expansion of the scheme represents a significant development in the School's vision of inclusivity and diversity.
Photo, Kira with Amy Brown, teacher at the Cumberland School, Newham, London.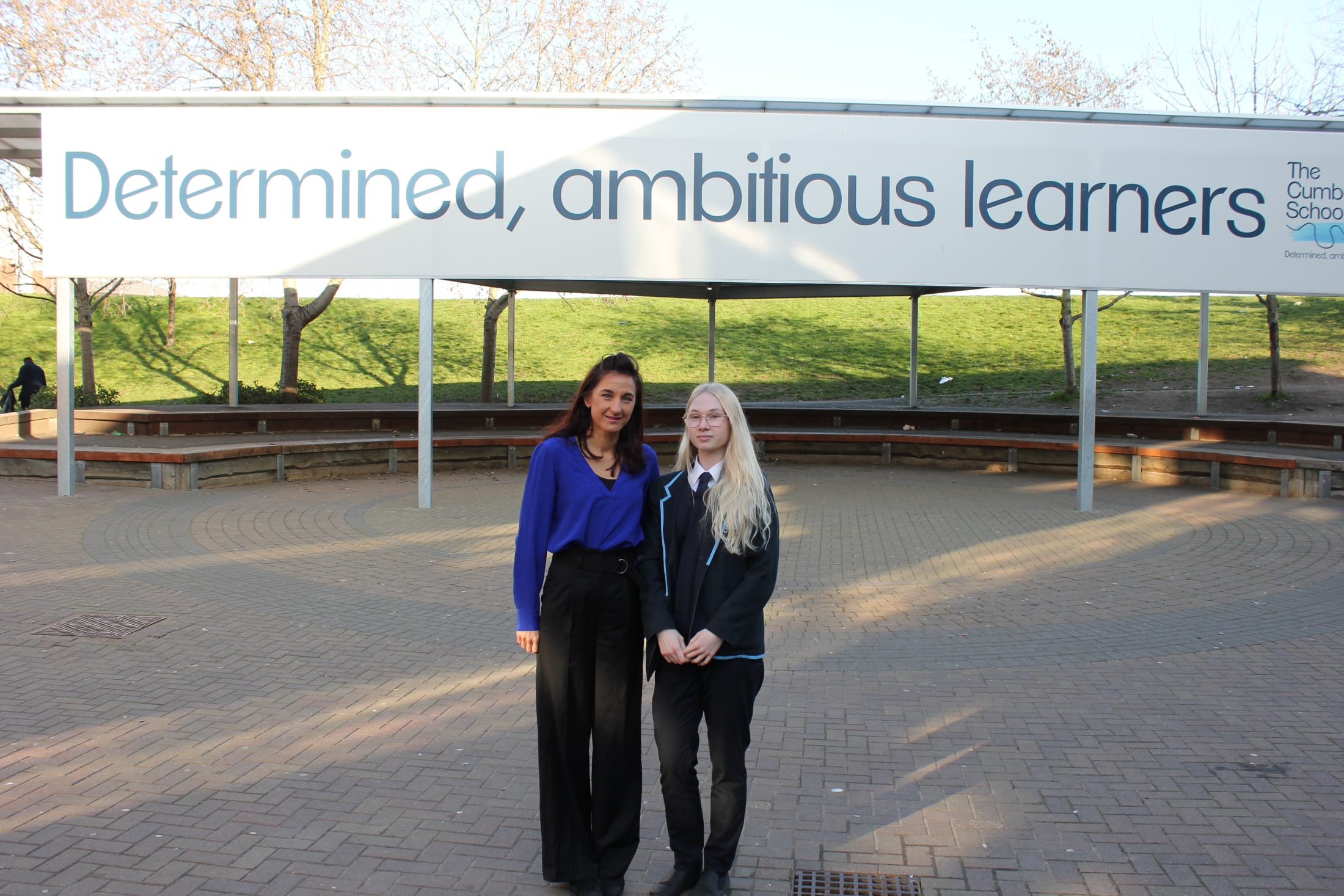 Categories:
Academic
News