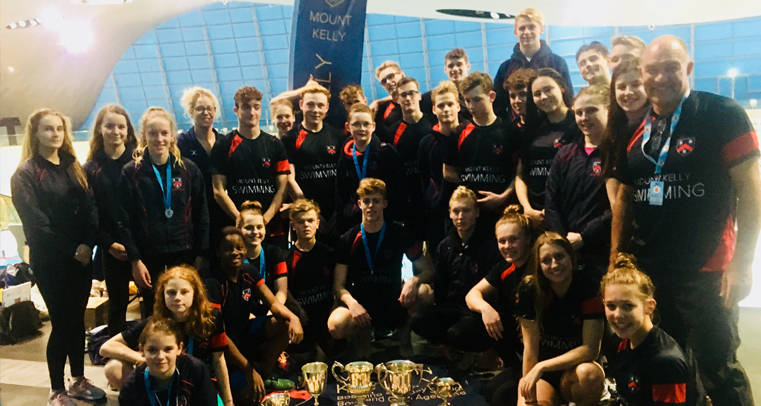 The 60th ESSA (English Schools Swimming Association) Secondary Schools Team National Championships was held on Saturday 18th November 2017 at the Olympic Aquatic Centre, London where Mount Kelly was crowned the top senior school, taking home the coveted shield and a haul of trophies and medals!
In addition to their normal academic studies the swimmers at Mount Kelly train for up to 20 hours a week in the pool and in the gym. Head Master, Mark Semmence, comments "The commitment and dedication of our swimmers is so impressive. With the recent addition of the 50 metre pool our squads have gone from strength to strength and it is wonderful to see them begin to realise their ambitions in this way."
The performance on Saturday is one of the most memorable days so far in the history of Mount Kelly Swimming. Time after time, Mount Kelly swimmers pushed the boundaries and as a result, finished the swim meet leading the medal table ahead of Millfield School and Plymouth College with:
8 Golds, 1 Silver, 2 Bronze medals and 6 New National Records
Swimmers involved in taking the national titles were:
Senior Boys: Eddie Maddocks, Harry Noble, Sam Dailley, Federico Burdisso, Alessandro Burdisso, Alex Mason, Ollie Taverner, Harry Turner (captain).
Senior Girls: Athena Clayson, Kaylee Dekker, Emily Haimes, Morgan Penney, Niamh Robinson, Martyna Ruszkowska.
Intermediate Boys: Benji Gillingham, Linus Launhardt, Maxwell George, Douglas Kelly, Joe Russell, Sandor Apponyi
Intermediate Girls: Georgina Dennis, Louise Edmunds, Jade Blake, Bella Hodges.
Junior Girls: Shamiso Matonhodze, Holly Robinson, Katey Dallolio, Amelia Riggott, Bella Baird.
Gold
Senior and Intermediate Girls Freestyle Relays
Senior and Intermediate Boys Freestyle Relays
Para Boys Freestyle Relay
Intermediate Boys Medley Relays
Senior Boys Medley Relays
Para Boys Medley Relay
Silver
Junior Girls Freestyle Relay
Bronze
Junior Girls Medley Relay
Inter Girls Medley Relay
Categories:
Archive News
Blog School News