Twenty intrepid Mount Kelly pupils headed off to Iceland for a fantastic educational experience-of-a-lifetime during half term.
The journey began with a trip to the Krýsuvík geothermal area and its striking alien planet landscape of solfataras, fumaroles, mud pots and hot springs. The following day saw pupils enjoying a soporific soak in the warm natural springs of the Secret Lagoon in Flúðir. This was followed by a visit to the famous Strokkur geyser located beside the Hvítá River, where pupils attempted to get the perfect picture as it erupted every few minutes.
Further downstream was the stunning Gulfoss Waterfall, and a short detour allowed the group to meet some of the local Icelandic horses and observe their unorthodox tölt gait. It was then on to Thingvellir National Park, the site of the world's oldest parliament which lies in a rift valley that marks the crest of the Mid-Atlantic Ridge and the boundary between the North American and Eurasian tectonic plates: an iconic geographical site.
Day three started at the Lava Centre, an excellent interactive geological museum, before heading to Skógafoss, one of the biggest waterfalls in Iceland with a width of 15 meters and a drop of 60 meters. The weather was perfect, with a rainbow forming in the spray of the cascade. Pupils hiked up to the snout of the Sólheimajökull glacier lying between the volcanoes of Katla and Eyjafjallajökull, where they witnessed dramatic evidence of climate change as the glacier has retreated rapidly over the past decade. They then took in some stunning coastal geography looking at the basaltic columns at Reynisfjara, where some pointed out what appeared to be evidence of trolls in the geological features. The final waterfall of the day was Seljalandsfoss and the adjacent secret waterfall of Gljufrabui, which involved a daring hike into the gorge itself.
On the fourth day, the group investigated human geography in the geothermal settlement of Hveragerði and explored the capital city Reykavik, which included a tour of the stunning Harpa Concert Hall and the modern church, Hallgrimskirkja.
The trip was a great success, with pupils enjoying stunning scenery and learning what makes Iceland such a unique and dynamic place. More photographs can be found on Facebook.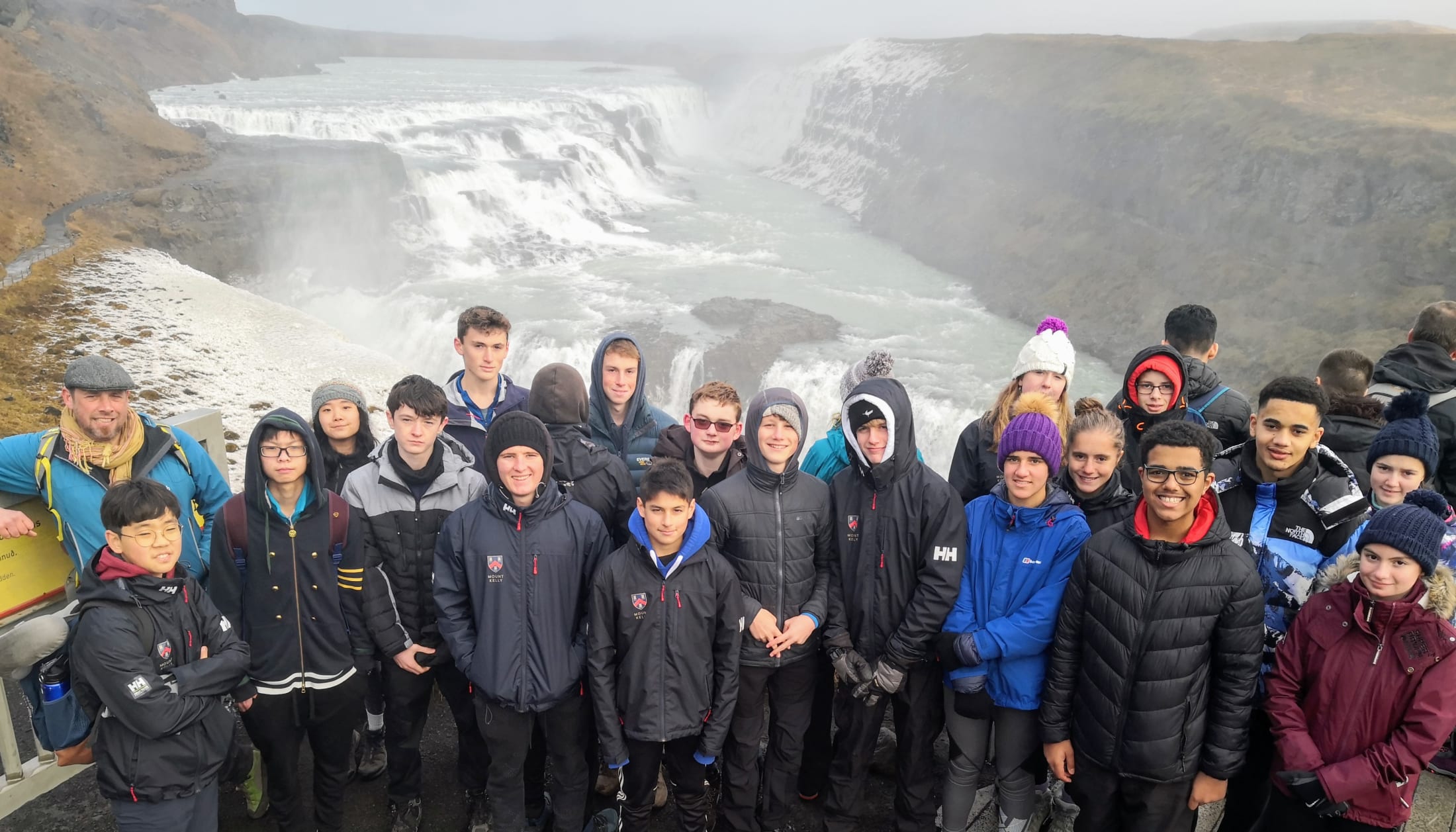 Categories:
Academic